Harris P5370 Noise Cancelling Headset








Roll over image to zoom in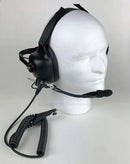 ---
Description
Noise cancelling headset for use with Harris P5370 radios. Behind-the-head dual speaker with noise cancelling boom microphone and In-Line PTT.
Rated with 24DB noise canceling and is recommended manufacturing plant engineers, industrial processing technicians, construction teams, race teams, airport personnel, or anyone in a high noise environment.
Equivalent to OTTO V4-10591.
Additional Compatible Portable Two Way Radio Models Include: Harris P5300, Harris, P5370,Harris P5400, Harris, P5450,Harris P5470, Harris P7300, Harris P7350, Harris P7370.