The Sensear SM1R and the 3M Peltor Litecom PRO III are both outstanding headsets. From intrinsically safe qualifications to guaranteed hearing protection from high noise reduction ratings, it is hard to choose which is best for you.
In this headset review, we will be comparing the two headsets by technology and design features, industry specifics, warranty, and price.
Read this article to determine which headset is right for you and your industry.
Design Features
Sensear SM1R
Weighs only 14.01 oz.
Available in headband, behind the neck, and helmet style
Comes in black
The Sensear SM1R weighs only 14.01 ounces from its lack of battery. The lighter weight makes it comfortable to wear during long hours. Although it only comes in one color, it can be worn three different ways. The headband is the most typical; however, in some industries a helmet might be necessary. In these situations, the Sensear can be modified to a helmet style.
The SM1R is a great communications headset that can be beneficial in many areas of work.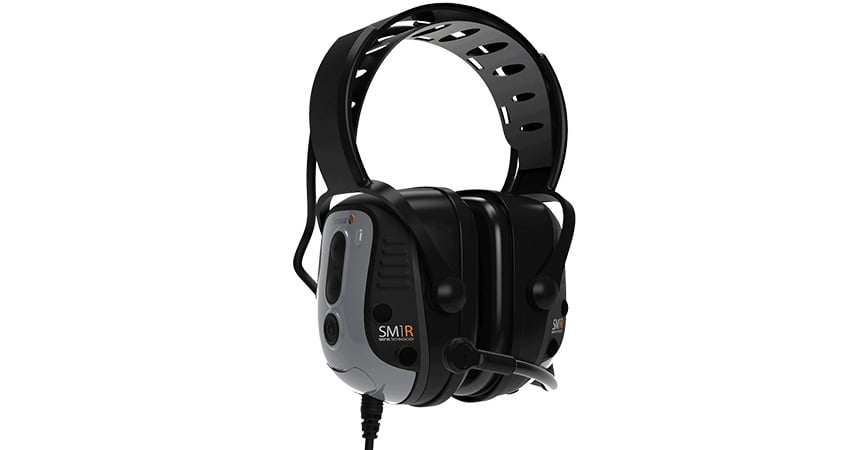 3M Peltor Litecom PRO III
Padded headband
Weighs 17.3 oz.
Comes in bright yellow, navy blue, and royal blue
With a padded headband, 3M Peltor made sure the Litecom PRO III is comfortable and durable. Unfortunately, this headset does weigh a bit more due to the battery pack compared to the Senesar SM1R that does not have a battery pack. Later in this article, we'll explain why it is beneficial for your headset to have its own battery.
The Litecom PRO III also comes in three colors, offering variety for different workplaces. The bright yellow is great for construction like roadwork where high visibility is a must.
3M Peltor specifically designed the Litecom PRO III for comfort and versatility.
Technology Features
Sensear SM1R
No battery in the headset, it is powered through the radio it is connected to
NRR of 19-27 dB
Noise-canceling boom microphone
VOX capable
In-ear noise exposure limited to 82 dB
Intrinsically safe
The Sensear SM1R communications headset has a variety of technology features. Because the Sensear headset is powered through the radio its connected to, you never have to worry about having your headset charged. One less tool to charge for your workday is one less thing on your long to do list.
Another convenient technology feature for the Sensear headset is it is intrinsically safe. This designation means the headset is verified to be a safe piece of technology to use even in hazardous situations.
In hazardous work environments, there tend to be loud noises from large machinery and other hazards. The Sensear SM1R headset has an NRR of 19-27 decibels. The NRR varies by how the headset is worn. It is most effective when worn with the headband on the top of the head.
Lastly, the Sensear headset is a great option to keep communication flowing while on the job. With a noise-canceling boom microphone, you can ensure your speech will transmit clearly even in loud environments.
Overall, the Sensear SM1R has a multitude of technology features. It is great to reduce noise exposure and use as a communications headset.
3M Peltor Litecom PRO III
11 hours of battery time
NRR of 28 dB
Environmental microphones
Noise canceling waterproof microphone
VOX capable
Bluetooth
Built in two-way radio
The 3M Peltor Litecom PRO III is a sturdy communications headset with many great technology features.
The 3M Peltor headset does have a battery, a Li-ion pack, that is rechargeable and can last 11 hours. The battery does make this headset a bit heavier and the user has to make sure it is charged every 11 hours; however, when a headset has its own battery, it can function without a radio attached.
In some cases, you may not need to always use your headset for communications purposes, but you still want to protect your hearing; because the 3M Peltor Litecom PRO III is powered by battery, all microphones and technology used to provide the NRR of 28 dB will still work without a radio connection.
In the event you are using your 3M Peltor for communications purposes, the noise-canceling and waterproof microphone that comes with the Litecom helps create clear transmission even in loud environments like construction sites.
Moreover, the Litecom is VOX capable. "VOX" stands for voice operated exchange. This technology feature can be useful in work environments where time is of the essence or when machinery requires both hands.
The 3M Peltor Litecom PRO III is an outstanding communications headset that is flexible for a variety of environments.
Recommended Industry:
Sensear SM1R
Manufacturing
Construction
Oil and Gas
Transportation
Mining
Processing
3M Peltor Litecom PRO III
Automotive
Construction
Manufacturing
Heavy infrastructure
Military maintenance
Transportation
Pharmaceutical
Forestry
Price:
The SM1R from Sensear will range in price from $500 to $1200; it will depend on the accessories you choose to pair with your headset.
3M Peltor Litecom PRO III
When bought directly from the 3M Peltor site, the Litecom PRO III costs around $1161.60 per headset. You can purchase the 3M Peltor Litecom PRO III from First Source Wireless for $969.97.
Follow the link HERE to purchase accessories that will pair well with your Litecom PRO III.
Warranty/Customer Service:
When making a large purchase, it is important to know what kind of support you will get from the company after the purchase. Is there a warranty? Does the warranty include repairs or tech support? Without taking these factors into consideration, you may regret a big purchase after it's too late.
Sensear SM1R
Sensear comes with a one year warranty. Within the one year, they will repair or replace your Sensear product with one of equal or greater value. They employ top engineers who can quickly troubleshoot your problem over the phone from great customer service or fix any physical issues when you send your product back.
To learn more, follow the link HERE.
3M Peltor Litecom PRO III
The 3M Peltor Litecom PRO III also comes with a one-year warranty. Within one year of purchasing from an authorized seller, they will replace your product if anything fails, as long as the failure was not caused by mistreatment of the product. Their customer service is clear cut and they are always willing to answer questions.
 . . .
The Sensear SM1R and 3M Peltor Litecom PRO III are great headsets with amazing design and technology features.
The Sensear SM1R is known for its lighter weight from its ability to run from the power of a connected radio rather than a large battery; this is beneficial for jobs that require long hours like processing and transportation. On the other hand, the 3M Peltor Litecom PRO III has an outstanding noise reduction rating making it both a great hearing protection and communications headset.
We hope this article gave you some additional insight to make your decision between the Sensear SM1R and the 3M Peltor Litecom PRO III!
About First Source Wireless: 
First Source Wireless is a dealer of 3M Peltor Headsets and can provide you and your team with lightweight, tactical communication equipment for your team. For more information, contact us via email at sales@firstsourcewireless.com and by phone at 800-991-4569 and our technical team will help find the right headset for you.
About the Author
Deanna Parenti is a Marketing Copywriter at First Source Wireless. Her knowledge of headsets has helped improve the communications of military and tactical teams across the nation. In her free time, she enjoys volunteering, making pottery, and getting outside.