OPS-CORE VISOR - FAST


Roll over image to zoom in



---
This item may be regulated for export by the U.S. Department Of State or the U.S. Department of Commerce.
This item may be regulated for sale to Military, Law enforcement, or other qualified personnel.
Description
Designed for Ops-Core FAST XP (formerly FAST XP Ballistic High Cut) and LE High Cut Helmets.
Easily donned with a single-gloved hand.
Seamless integration with Ops-Core FAST XP High-Cut ARC Rails.
Quickly and quietly friction locks into closed, open or vented positions at 45-degree increments using field-proven CAM Lock technology.
Available in Urban Tan, Foliage Green, and Black.
Testing Protocols & Design 
Designed and tested in accordance with Gentex PRS-1011 Product Specification for the Ops-Core FAST Visor.
Tested against the 17-grain (1.1 gram) Fragment Simulated Projectile (FSP) using a baseline testing method to establish a minimum V-50 of 775 feet per second (fps) / 221 meters per second (m/s). (V-50 is defined as the velocity of a designated projectile where 50% of the threat will penetrate and 50% will be stopped.)
Blunt impact resistant tested against 2.20 pounds (1 kilogram) steel cylinder with hemispherical anvil impact point dropped from 2.62 feet (0.8 meters) without visor impacting head-form.
Environmental effects tested: seawater resistant; weatherometer (accelerated aging); high-temperature operating and storage; cold temperature operating and storage; vibration, field agent resistant (DEET insect repellant, gasoline, motor oil, petroleum-based hydraulic fluid, fire resistant hydraulic fluid, diesel fuel oil, aviation turbine fuel, rifle bore cleaning compound, weapons lubricating oil, weapons artic lubricating oil, face paint, and 6.0% Sodium Hypochlorite).
CHARACTERISTICS, COVERAGE & WEIGHT
You May Also Like
X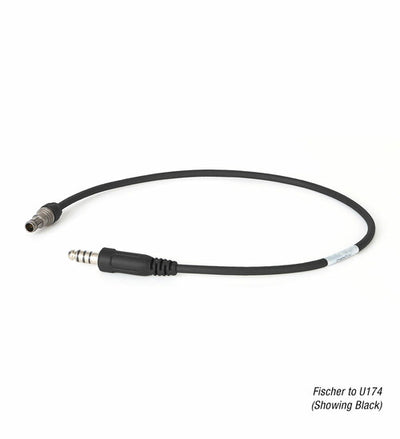 AMP Headset Connectorized Downlead Cable Mono Binaural U174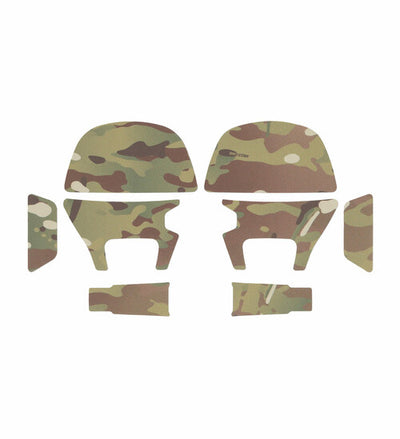 Ops Core AMP Camo Skin Set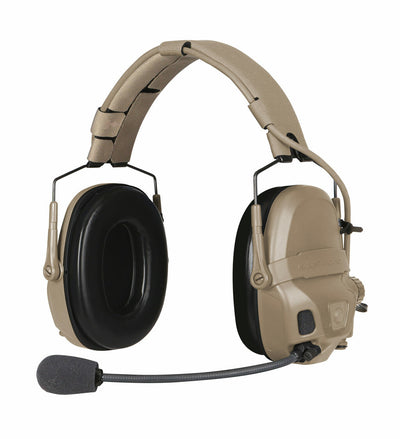 Ops Core AMP Communication Headset - Connectorized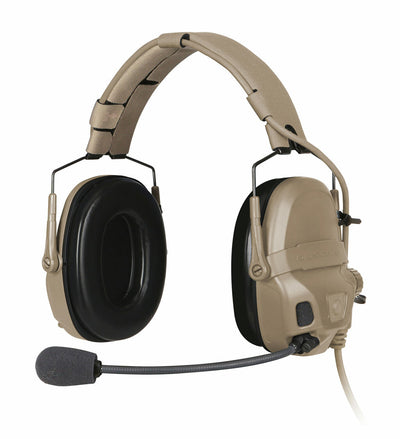 Ops Core AMP Communication Headset - Fixed Downlead, U174 Connector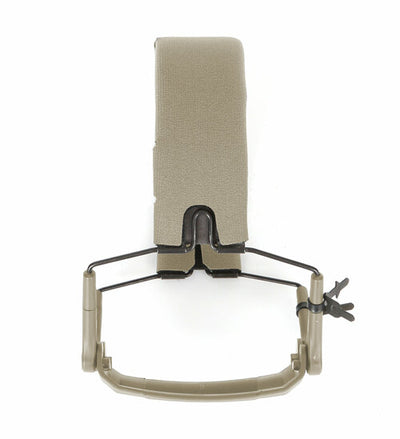 Ops Core AMP Headband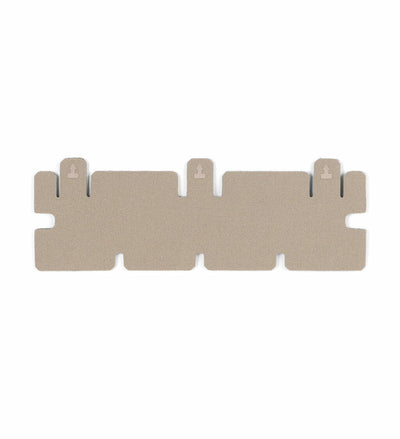 Ops Core AMP Headband Cover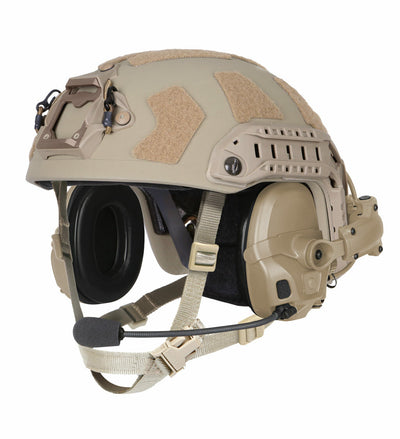 Ops Core AMP Headset and FAST SF Helmet Bundle - Connectorized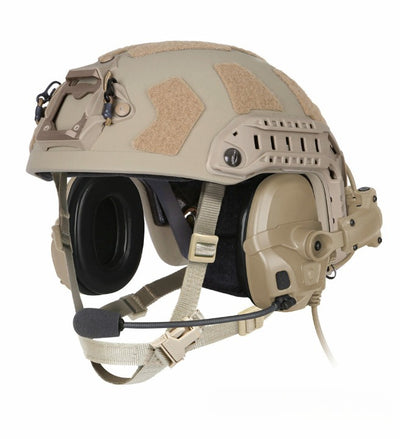 Ops Core AMP Headset and FAST SF Helmet Bundle - Fixed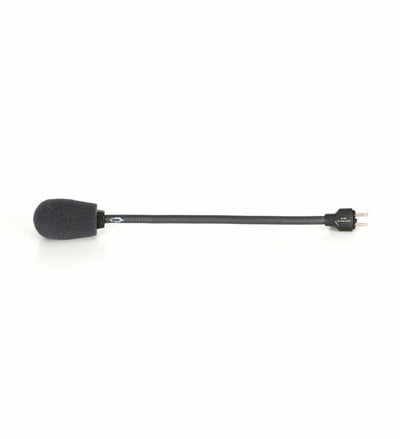 Ops Core AMP Headset Boom Microphone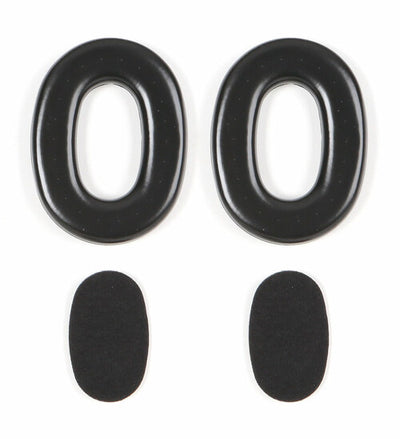 Ops Core AMP Replacement Earseal Hygiene Kit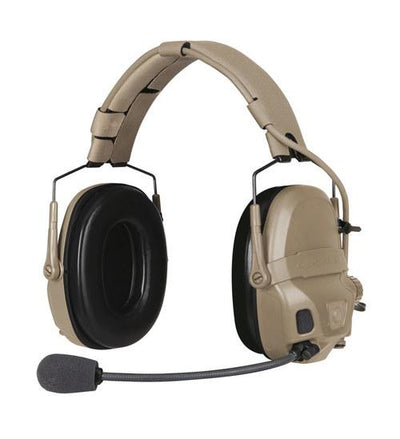 Ops Core AMP Socom Dual Comm Tactical Communication Headset Kit - Connectorized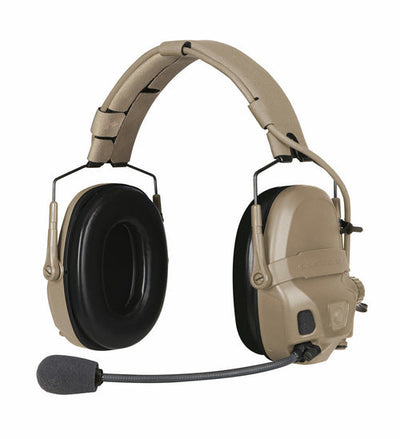 Ops Core AMP Tactical Communication Headset Kit Includes Two-Way Radio Push To Talk Adapter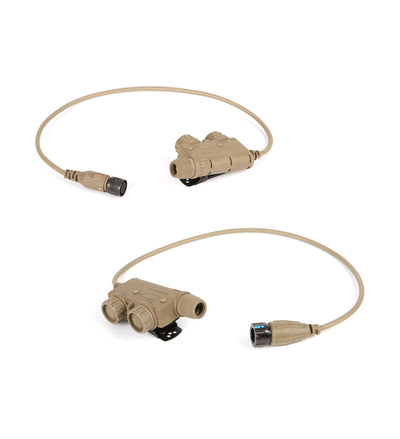 Ops Core Amphenol Dual Band 10 Pin Dual Comm Push to Talk Adapter for Use with PRC163 Military Radios
Ops Core Dual Comm Push to Talk Adapter for Use with PRC163 Military Radios