70071613726| MT17H682P3AD-49 SV |3M(TM) Peltor(TM) SwatTac ACH ARC Communication Headset MT17H682P3AD-49 SV, Dual Comm, 20" Straight Single Downlead, Black, 1 ea/cs

Roll over image to zoom in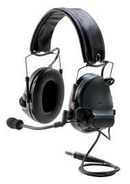 ---
Description
Note: This product has been discontinued by the manufacturer 3M corporation and has been replaced by the Comtac V.
3M(TM) Peltor(TM) COMTAC(TM) ACH ARC headset is the third generation of COMTAC Tactical Communication Headsets. Its cup profile has been improved, providing better fi t and improved comfort for a variety of helmets used by military and law enforcement professionals, including the Advanced Combat Helmet (ACH). The headset features external microphones for "talk-thru" capability so today's warfighter can maintain situational awareness while still protecting their hearing. 
• Level-dependent surround sound for "talk-thru" function
• External communications and stereo "talk-thru" are independent of each other
• Ambidextrous noise-canceling boom mic (can be mounted on either left or right side by operator)
• Headband and neckband variants also available
• Single and Dual COMM variants available
• Throat mic option
• Gel cushion option
Note: This item is built to order and is not returnable other than for defects which are covered by a one year manufacturer's warranty.