3M PELTOR Tactical Pro 2-Way Communications Headset MT15H7P3E-07 SV, Hard Hat Attach
Roll over image to zoom in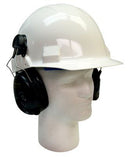 ---
Description
Note: This product has been discontinued by 3M PELTOR and replaced with the CH-3 Hard Hat Attachment Headset.
Go to Replacement
This is the 3M PELTOR TacticalPro Headset, hard hat attached model. Hearing protection and environmental listening with two-way radio connectivity.
The 3M PELTOR TacticalPro 2-way hard hat attached headset with boom microphone allows for clear, ambient sound and voice recognition in noisy environments. The headset is designed with level-dependent technology that amplifies low-level sounds while suppressing hazardous noise. It is the perfect choice for a wide variety of applications, including: gun ranges; fork lift drivers; airport ground personnel; maintenance mechanics; and industrial workers.
A premier hearing protection and communication solution for high noise environments
Environmental microphones allow face-to-face conversation and improved situational awareness in quiet and low-to-moderate levels of noise
Connects to two-way radios for improved communication in noisy environments
Noise-cancelling boom microphone enables clear speech transmission in noisy environments
Foam and liquid-filled cushions provide lasting comfort and an effective acoustic seal for long duration wear times
Hard hat attached model connects directly to compatible hard hats.