3M HTM79A Peltor HT Series Listen-Only Headset Headband

Roll over image to zoom in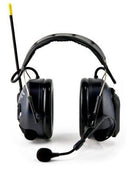 ---
Description
With its carefully designed speaker system and excellent attenuation, the HT Series listen-only communications headset offers clear sound reproduction and communication in high-noise environments. These versatile headband headsets are designed with a wide selection of connectors, which enable them to be used with speaker microphones, VHF/UHF radios, or personal entertainment devices in high-noise areas.

The HT Series listen-only communications headset also features:

• Wide, padded headband with two-point suspension
• Earcups with liquid and foam-filled comfort cushions for long wear and optimum seal
• Adjustable, noise-canceling microphone
• Flexible, insulated connection cords made from durable polyurethane
• Possible industries include: heavy equipment operators, airports, manufacturing, construction, agricultural, racing, oil rigs, petroleum refineries
• NRR 25dB*

*The NRR may overestimate the hearing protection provided during typical use. 3M recommends reducing the NRR by 50% for estimating the amount of noise reduction provided.

3M is Leading the Advancement of Hearing Conservation(TM).
Note: Effective March 5, 2020, this product has been discontinued by the manufacturer 3M corporation and has been replaced by the HT52A-112 Headset
Buy Replacement Headset Here
Download the Comtac III User Manual here.